Mindful Care was in the Pulse recently.  Please click here to read the article.
Elders First/Mindful Care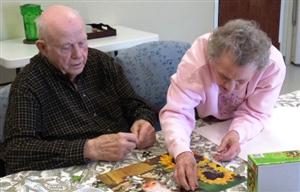 Providing happiness and laughs in a dark situation is what Elders First does for its clients. The adult daycare center provides care for those 55 and older who are fragile and have compromised memory or health.
Elders First will soon be changing its name to Mindful Care and reinventing the center's image. An informational event will be held on May 21 at 6 p.m. at Garrison's Cafe, inside the Murfreesboro Medical Clinic.
"It's not a fundraiser; it's just to reintroduce who we are," said Lori Domer, director.
The caring and professional staff provide friendship and assistance to those who need guidance and supervision.
"They come to socialize with people their own age," Lori said motioning to the group working on puzzles. Clients do activities and exercises that provide physical, mental, and cognitive stimulation.
Elders First provides games, cooking projects, birthday parties and group outings, among other things.
"We try to bring the things that are taken away from them back," Lori said.
Some past local outings have been trips to the grocery store, restaurants, the aquarium and Build-A-Bear at Opry Mills. "They all made Build-A-Bears; that was one of the happiest days ever," Lori said, smiling.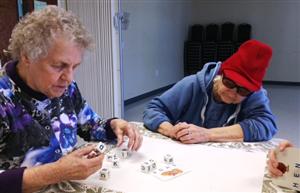 Many families aren't able to give the elderly the attention they need or opportunities to get out of the house, which is especially hard due to work schedules. Elders First is an affordable way to get them the attention they need.
The cost is $20 for any 4 hours and $30 for a whole day. A fee assistance program is also available for families that can't afford that.
The staff wants to take trips that will be inexpensive to the families, and they can do more when they have more volunteers.
Anyone from homeschooled kids to retired seniors can volunteer with Elders First.
"If you love it and you want to do it, pick a day to come in once a week or month," Lori said. "We plan our schedules around our volunteers."
Many of the caregivers and families of the elderly become family to the Elders First staff.
"Our families stay in touch," Lori said. Some say, "You all saved our lives when we had nowhere else to turn . . . We can't cure what's wrong with them, but we can give them something to look forward to every day. And if they have that, that's a will to get up."
One woman comes every day to work. "She really thinks she works with us," Lori said, "and that's great because it gives her a purpose to get up every day."
"At the end of the day you always know you provided a lot of happiness and a lot of laughs in an otherwise dark situation."
Elders First is located at New Vision Baptist Church, 1750 N. Thompson Lane, Murfreesboro, and can be contacted at eldersfirst@dtccom.net or (615) 542-4371.